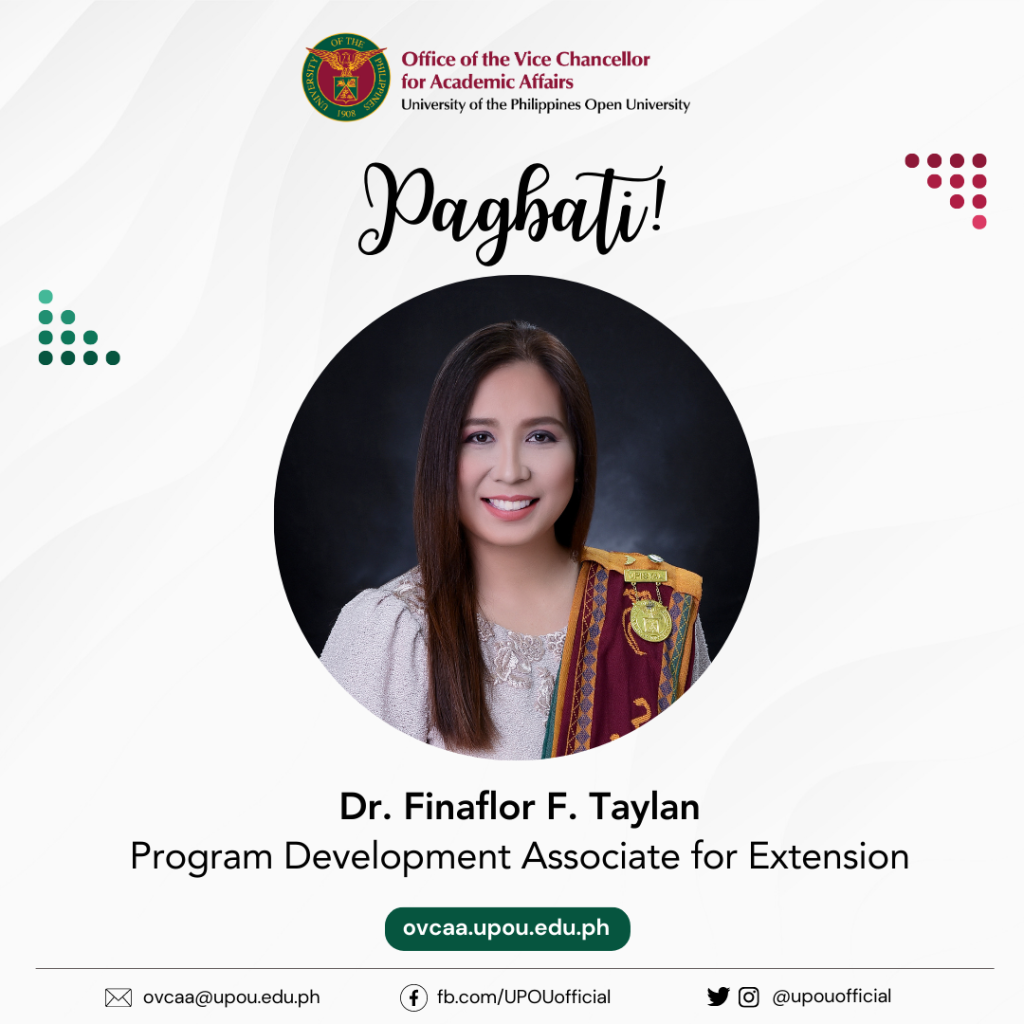 The University of the Philippines Open University (UPOU), specifically the Office of the Vice Chancellor for Academic Affairs (OVCAA), welcomes the new Program Development Associate (PDA) for Extension, Dr. Finaflor F. Taylan.
Dr. Taylan earned her Doctor of Professional Studies degree from the University of Southern Queensland, Australia, wherein she received the exemplary Community Service Award.  She is a graduate of Bachelor's Degree in Social Work (magna cum laude) and Masters degree in Social Work from the University of the Philippines Diliman (UPD). Dr. Taylan is a faculty member and Program Chair for Social Work in the Faculty of Management and Development Studies (FMDS). She also serves as the Director of the Office of Gender Concerns (OGC).
Moreover, Dr. Taylan is a member of the Asia Pacific Regional Technical Working Group which curated the amplified definition of Social Work in the Asia Pacific in the years 2014 to 2016. She also currently serves as the President of Asian Association of Women's Studies (AASW) and one of the trainers on gender and development of the National Association for Social Work Education, Inc. (NASWEI) as well as an expert-partner by the Department of Social Welfare and Development (DSWD). Her advocacy for mental health awareness extended as she became a volunteer provider of psychosocial support for free during the trying times of the pandemic.
Dr. Taylan will  assist OVCAA in the development of Extension/Public Service Framework for UPOU, coordination and accreditation of UPOU as a provider of professional continuing education, and preparation of policies and procedures on the development, administration, and evaluation of extension offerings and activities.