The book outlines the evolution of the concept of quality in higher education and how it has been applied in Open and Distance Learning (ODL) and identifies relevant issues in a technology-enhanced education system. It also compiles the thoughts, practices, and initiatives of the University of the Philippines Open University, as an Open and Distance e-Learning (ODeL) institution, in achieving quality education under an open education philosophy which promotes inclusivity through universal accessibility, equity, and openness.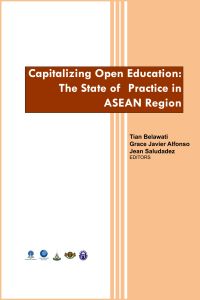 The chapters focus on reviewing the current policies, standards, and guidelines of the governments' ministries and commissions in higher education. Likewise, the book presents a perception study of various sectors such as the students, teachers, and employers on open education and their insights on the role of open universities in human resource development, social and political acceptability, and the future direction of open education.
This volume, consisting of 15 chapters, gives a glimpse of how a community of 21st century educators, immersed in open and distance elearning (ODeL), engage thought and practice to produce a unified and constantly adapting system of assessment in varied forms and functions carried out at different levels. Specifically , it captures the assessment praxis of the UP Open University as gleaned from existing practices as well as from thought papers of its faculty, researchers, and academic and administrative leaders.
This volume captures the collective experience of the Learning Centers as seen through the lenses of its Coordinators. The Learning Center, being an integral institutional link between the University and its distance learners, is considered as an all-important academic and administrative unit of UPOU in the delivery of quality education. With the end in view of continuously assessing their ever-evolving education, it is hoped that this compilation of narratives becomes a starting point for reflection towards reconceptualization of UPOU's Learning Center set up.

Conversations on Openness: An Engagement in Discourse Capture encapsulated the UPOU community's dominant narrative on openness in its pre-MOOC phase. As early as 2012, the institution engaged in discussions on open curricula, open educational resources, open access, open admissions and other dimensions of openness in efforts to provide academic leadership in open and distance learning in the Philippines.
The book, AGCOM-DEVCOM Crossover, is a narrative of one who participated in the practice of both agricultural communications and development communication at a time when these catch phrases among social science professionals, academics, graduate students, and practitioners.